Legoland Hotel Fire Lane Paved With Drivable Grass®!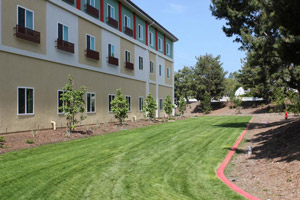 (April 15, 2013 – CARLSBAD, CA) - Legoland California, owned by Merlin Entertainment, the 2nd largest theme park company in the world, opened the nation's first Lego-themed hotel on Friday, April 5th, 2013 in Carlsbad, CA.
Delawie Wilkes Rodriguez Barker Architects designed the hotel and R W Apel was the Landscape Architect.
Drivable Grass® was the product of choice for the emergency Fire Access Lane. Irri'scape Construction installed 13,680 sq. ft. of the permeable, flexible and plantable concrete pavement system. The Drivable Grass® was planted with a hydroseed application of Dwarf Fescue to get the desired full grass look.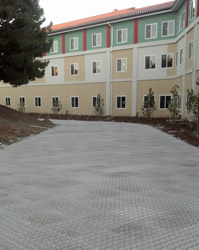 Drivable Grass® has been approved and installed on numerous fire lanes, parking lots, and driveways throughout California and the nation, and has been field tested to prove the use.