Vienza Winery at Europa Village
Temecula, CA
Main Use: Verdura® Retaining Walls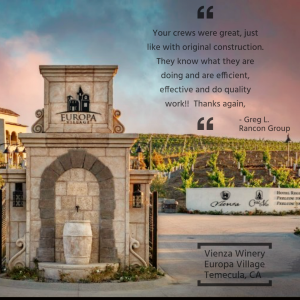 5792 West Jefferson
Los Angeles, CA
Main Use: Drivable Grass® Exterior Patio + Vehicular Driveway
January 24, 2022
"The beauty and performance of the product speaks for itself."
Dolan Daggett, Project Director
Eric Owen Moss Architects
ROLLING HILLS COUNTRY CLUB
Rolling Hills Estates, CA
December 04, 2017
Darien, I want to thank you and Jon for finishing all the Verdura walls last week. I want to recognize that your company is a top notch professional company!! Your employees are no nonsense, work hard, and get it done!!! How refreshing to see an outfit that has that zeal!! Thanks for jumping in and getting us out of the way and in a slam dunk manner! It has been a pleasure to work with you and your company, and please send this message to Jon. Thank you Larry
Thank You
Larry W. Miller
General Superintendent
Hazard Construction Co.
Cell: 858-740-1433
Office: 858-587-3600 Ext. 179
WILLOW HEIGHTS
Diamond Bar, CA
January 09, 2015
Dear Jan, Darien and Soil Retention Team –
You guys delivered big time at Willow Heights and I wanted to say thank you.  The Verdura plantable wall system enabled us to increase our useable land and yield more homes,  was less expensive than traditional retaining walls and construction took less than half the time.  Bottom line it was less expensive, faster to construct and looks phenomenal at the Willow Heights project.  The icing on the cake is that the Verdura wall allows for and creates a tremendous amount of plantable area and greenery which softens the feel of the large walls.  They look great and I know they will stay looking great, just like the ones I've done elsewhere.  Thanks Soil Retention, see you on the next one!
Lester Tucker
Sr. Director of Development
Lennar Homes of California
FOUR TIER VERDURA BUFF RETAINING WALL, DIY
Bleevan from Mission Viejo
March 26, 2013
After 7 pallets and a few months working on clearing my side yard hillside of shrubs, excavating four tiers of dirt, and laying over 250 stones, I made a tiered garden in a part of my yard that was previously useless.
For those penny pinchers like me, note that the cost per block coverage is very reasonable when considering each blocks coverage of 27″ X 6.5″ (18″ long plus 9″ gap x 6.5″ tall rise).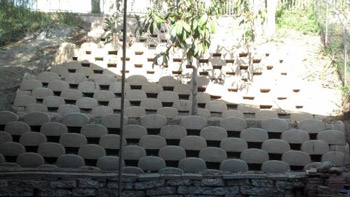 Here's some tips; get help. I did this myself and took way longer than necessary. These stones are about 40 lbs each, and it doesn't get easier the further up the slope you go. Even though the manufacturer only suggests leveling sand, it is very necessary for anyone who is a weekend DIYer. If that base course is level, you are good to go. My only complaint about this particular retaining wall block is the uneven surface on the top of each stone that the next course of blocks rest upon. It ultimately didn't matter if that base course was fine since gravity does the work of rocking the stones into their most level position, but for a first timer, this felt unsettling as I was building.
My walls are all around 3ft tall. The ratio to follow is 2:1 deep to tall (I had to fudge a little bit to save some trees). Also note that drainage is not necessary (at least on smaller walls like mine) due to the soil retaining nature of the blocks. There is very little hydrostatic pressure since the retained dirt is exposed in the block pockets.
Happy Building!