FOUR TIER VERDURA BUFF RETAINING WALL, DIY
Bleevan from Mission Viejo
March 26, 2013
After 7 pallets and a few months working on clearing my side yard hillside of shrubs, excavating four tiers of dirt, and laying over 250 stones, I made a tiered garden in a part of my yard that was previously useless.
For those penny pinchers like me, note that the cost per block coverage is very reasonable when considering each blocks coverage of 27″ X 6.5″ (18″ long plus 9″ gap x 6.5″ tall rise).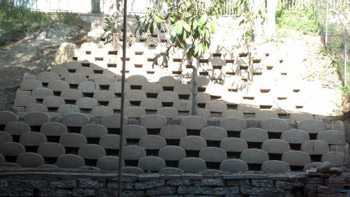 Here's some tips; get help. I did this myself and took way longer than necessary. These stones are about 40 lbs each, and it doesn't get easier the further up the slope you go. Even though the manufacturer only suggests leveling sand, it is very necessary for anyone who is a weekend DIYer. If that base course is level, you are good to go. My only complaint about this particular retaining wall block is the uneven surface on the top of each stone that the next course of blocks rest upon. It ultimately didn't matter if that base course was fine since gravity does the work of rocking the stones into their most level position, but for a first timer, this felt unsettling as I was building.
My walls are all around 3ft tall. The ratio to follow is 2:1 deep to tall (I had to fudge a little bit to save some trees). Also note that drainage is not necessary (at least on smaller walls like mine) due to the soil retaining nature of the blocks. There is very little hydrostatic pressure since the retained dirt is exposed in the block pockets.
Happy Building!